What we do with Terrazzo
North American Terrazzo sets itself apart by offering complete service from specification to procurement to installation in both commercial and residential projects. Our capabilities include project planning, design support, custom fabrication, installation, and technical and maintenance support.

Terrazzo is durable, easy to clean, and will not support microbial growth. This adds up to low life-cycle costs. And with North American Terrazzo's infinite style and design capabilities, you can specify terrazzo with absolute confidence that your expectations will be met.

We are a knowledgeable and experienced partner that will be with you every step of the way. Our old world craftsmen have the ability to provide all services related to terrazzo, stone, and tile, and work with professionals including general contractors, architects, interior designers, property managers, and end users.

By providing a full range of options, including an assortment of supplementary services, North American Terrazzo enables its clients to make the best possible decision when choosing terrazzo or stone flooring. At North American Terrazzo, no matter what service we provide, we strive for unsurpassed quality and value.
Specification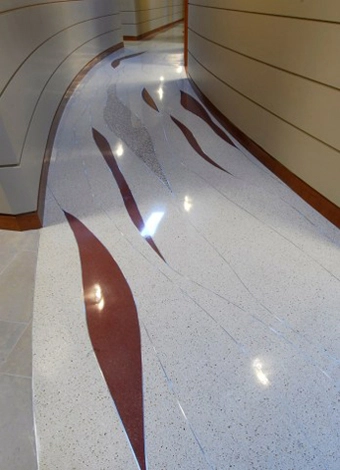 North American Terrazzo provides specification assistance using approved standard and custom terrazzo systems combined with knowledge and experience of the material considerations critical to job site success.
The National Terrazzo & Mosaic Association® defines Terrazzo as follows: "Terrazzo consists of marble, granite, onyx, or glass chips in Portland cement, polyacrylate modified Portland cement, or epoxy resin matrix binder. The Terrazzo is poured, cured, ground, and polished. Terrazzo is typically used as a finish for floors, stairs or walls."
While there is a wide range of marble and glass colors, virtually any color can be produced with epoxy resin terrazzo. As with colors, marble chip sizes can be combined to create variations in the appearance of the terrazzo. Divider strips are used to create custom designs and patterns in the project, including logo, artwork and directional assistance.

Samples, shop drawings, custom design, floor preparation, waterproofing, slip-resistance, material sourcing, LEED requirements, color composition and site coordination are all part of a successfully specified project. Our selection of aggregate includes marble, stone, glass, plastic, mother of pearl, and various metals. North American Terrazzo, with its material sourcing abilities and highly skilled terrazzo craftsman is uniquely qualified to surpass your expectations.
Installation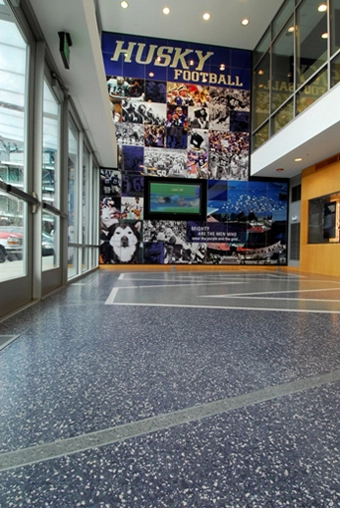 Terrazzo is used in both interior and exterior applications.
Portland Cement and Polyacrylate Matrix Terrazzo can be used for both interior and exterior applications, however. Epoxy Resin Matrix Terrazzo is not recommended for exterior use, and therefore primarily used in interior applications.
North American Terrazzo knows the right questions to ask and the solutions to provide to ensure your project is a success. Our years of experience, qualified craftsmen, and in-depth product knowledge provide the advantage you need.
Refinishing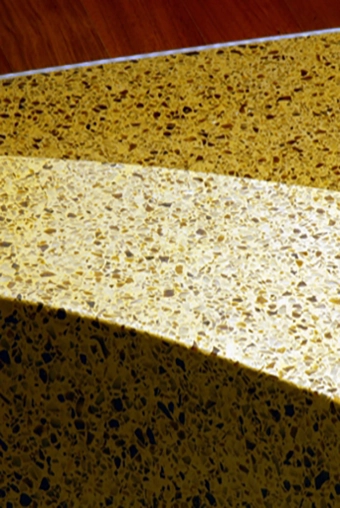 North American Terrazzo can bring life back to an aged floor and repair worn or discolored terrazzo
Terrazzo is the combination of an aggregate material, such as marble, granite, metal, glass, plastic, or mother of pearl with a matrix material of either cement or epoxy. The poured surface is then ground smooth to expose the aggregate material. Terrazzo is the perfect finish for bathrooms, lobbies, corridors, countertops, logos or any other surface that must combine beauty and durability.
Polish layers can dull the surface over time. Foot traffic, roller friction, delivery carts, spills and scrapes are abusive and they occur daily.

Our techniques will revitalize your surfaces to their original luster. We also provide maintenance support to help prolong the appearance and provide additional return on your investment and the safety of your project.